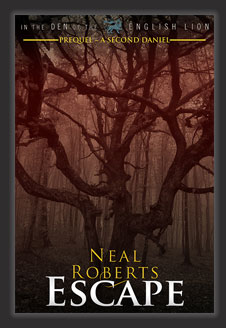 Journey to England's shores 1558 with young Menachem in the exclusive prequel short, Escape.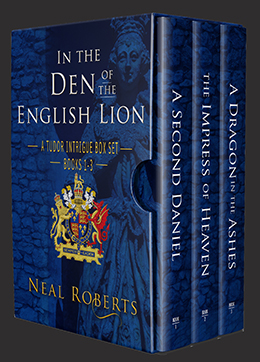 Read more

For a limited time grab
Books 1-3 for only $6.99!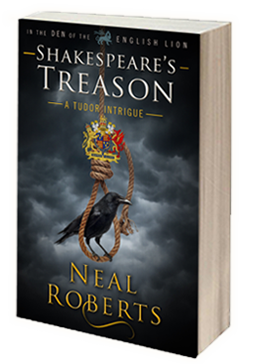 Shakespeare's Treason - Book 5
LONDON 1601. The Earls of Essex and Southampton, imprisoned in the Tower of London pending their trial for high treason, incriminate Noah Ames's dear friend Sir Henry Neville. When the one man whose testimony can save Sir Henry suddenly vanishes, Noah must solve the mystery of his abduction and bring him back in time to save Sir Henry from a traitor's death.
Buy now: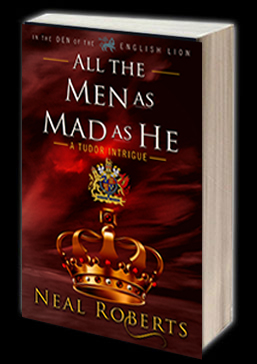 All the Men as Mad as He - Book 4
One of Barnes & Nobles' 20 Favorite Indie Books of 2018
"Why we loved it: Dripping with historical authenticity, Roberts crafts an engaging, unpredictable mystery."
— Barnes & Noble
"A definite must-read for history buffs! Once again Neal Roberts has given us a well-plotted story with the perfect balance of historical figures and fictional ones. His collection of friends, foes and family of Noah Ames are well defined and provide a solid glimpse into the daily trials and tribulations of people at various stations in Elizabethan England. The twists and turns of the story are well planned and provide for a suspenseful read. While we can't know the innermost thoughts of the real people who inhabit his work, it is evident that tireless research was involved to ensure any assertions, thoughts or actions are mostly accurate or could be so. When he does deviate from history or if he extrapolates intention, you can find the explanation in the Notes at the end of the book. I appreciate that level of detail. While the broader story is meticulously researched actual events, the larger story does remain focused on Noah Ames and his growing family which is fortunate as he is a genuinely likable character."
— Amazon Reviewer
LONDON 1600. Though Queen Elizabeth has ordered the Earl of Essex's release from confinement, she's thwarted his return to social and military grace by barring him from court for an indefinite term. Unsatisfied with this humiliation, the Queen considers whether to cut off his sole remaining income, as well. Noah Ames strongly advises against it on grounds that the Queen will thereby lose any remaining influence over Essex's conduct and also place him in desperate financial straits. When several seemingly unrelated men are found murdered, Noah begins to suspect that such murders reveal Essex's treasonous intention to return to court in bloody defiance of the Queen's order.
Buy now: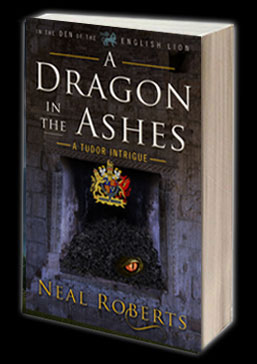 A Dragon in the Ashes - Book 3
LONDON 1600. When an attempt is made on Queen Elizabeth's life, Serjeant Noah Ames races to her rescue, then sets out to identify the culprit among a band of foreigners who've newly arrived from the Continent to join with the seditious Lord Essex. In the course of his investigation, Noah uncloaks an unmitigated rein of evil that has resulted in the murders of kings, queens, and religious minorities ... and which now threatens Noah's life for reasons no one would ever suspect. Will he pay the ultimate price for forgetting that the past is never past?
Buy now:

The Impress of Heaven - Book 2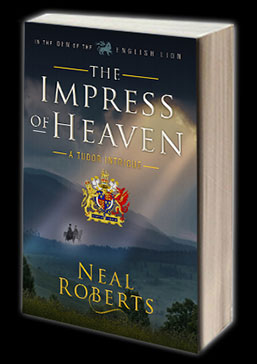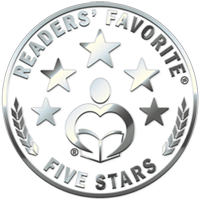 "The Impress of Heaven is a well-researched and very engaging historical fiction piece. I absolutely loved the setting and found every detail to be stunningly beautiful and accurate. Roberts did an excellent job of recreating this gorgeous historical world with enough subterfuge and underlying darkness to keep me completely engaged. The characters were very well-written and seemed realistic and authentic to their time period. I was immediately drawn into this intriguing story and wanted to know more about these characters, their world, and the mysteries within it. I didn't want to put this book down and was disappointed when the story was over because I enjoyed it so much."
— Reviewed By Janelle Fila for Readers' Favorite
LONDON 1600. When the Earl of Essex is removed from command and placed under arrest for reaching a forbidden truce with the Irish rebels, Serjeant Noah Ames reluctantly accepts a commission to investigate the earl's fitness for command, and the two are pitted against each other once again. Meanwhile, Noah's beautiful daughter, Lady Jessica, has sought to remarry into the nobility, but events have thus far frustrated her plans. One day, Noah attends a briefing where the Queen's new commander displays maps of English military positions in Ireland. Noah's suspicions are aroused when he sees that one map is missing a watermark appearing on all the others. When he informs his young barrister friend Jonathan of his concern, he inadvertently sets in motion events that throw Jonathan and Lady Jessica together on a journey across England into ever greater peril.
Buy now:

A Second Daniel - Book 1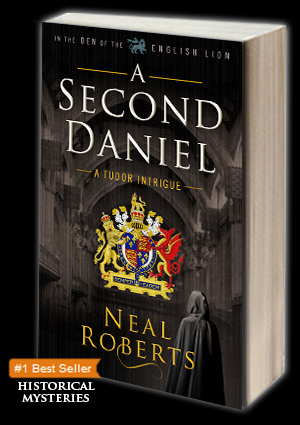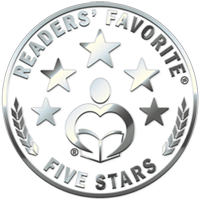 "Wow! I just finished reading A Second Daniel, the first book of In The Den of the English Lion series by debut author Neal Roberts, and all I can say is WOW! In this absolutely fantastic story, readers will meet protagonist Noah Ames. An orphan from a distant land, Noah is given all sorts of advantages by the English crown, and with no real explanation. He grows up to be an accomplished man, a barrister in fact, and with a fierce loyalty to Queen Elizabeth. When he observes a botched robbery committed outside of the Rose theater he soon realizes that what he actually witnessed was a plot against his beloved Queen. He develops a plan to catch the sinister culprit, but realizes that in order to follow his plan to its fruition, he may have to reveal things about himself that he's kept secret for a long time, things that could just get him killed. Just who is Noah, and is his loyalty to Elizabeth worth his own life? You'll have to read the book to find out!

I loved this book. LOVED it. I am a huge fan of tales from the Tudor era, and I read anything I can get my hands on set in this time period. A Second Daniel was truly head and shoulders above most that I've read. The story grabbed me from the first page, and I simply could not put it down. Author Neal Roberts has done an amazing job with scene setting, creating intriguing characters that his readers will absolutely care about, and including details that will make the reader feel as if they have simply slipped into Elizabethan London, simply another peasant on the street. Any reader who enjoys historical fiction, stories with a hefty dose of intrigue and mystery, or simply an excellent work of fiction will love A Second Daniel. I highly recommend this book, and I will be obsessively watching to see when author Neal Roberts releases the next installment of this promising series. If it's anything like A Second Daniel, it will be masterly!"
— Reviewed By Tracy A. Fischer for Readers' Favorite
"In Neal Roberts' spectacular debut, a gripping tale of murder and conspiracy unfolds against the lush tapestry of Elizabethan political intrigue. Roberts breathes vibrant life into 16th-century London, populating it with an array of enthralling characters. A Second Daniel is a spellbinding historical mystery, and Neal Roberts is an author to watch!"
— P.B. Ryan, USA Today bestselling author of Still Life with Murder

"With A Second Daniel, Neal Roberts captures Elizabethan London so skillfully, it's as if the reader has stepped right into the story. Barrister Noah Ames is a compelling protagonist of intelligence and heart who conceals a dangerous secret unknown even to his closest friends. A riveting debut historical mystery by an exciting new talent!"
— Pamela Burford, best-selling author of Undertaking Irene
London 1885. An orphan from a far-off land is renamed "Noah Ames," and given every advantage the English Crown can bestow.

London 1592. Now an experienced barrister, Noah witnesses what appears to be a botched robbery outside the Rose Theater, a crime he soon suspects to be part of a plot against Queen Elizabeth herself. Steadfast in his loyalty to the Queen, Noah must use every bit of his knowledge and skill to lure her most disloyal subject onto the only battlefield where Noah has the advantage … a court of law — though in doing so he risks public exposure of his darkest secret, a secret so shocking that its revelation could cost him everything: the love of the only woman who can offer him happiness, his livelihood … even his life.
Buy now: